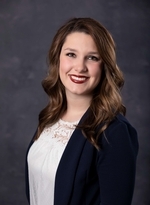 Biography:
Chelsea grew up in Walker and after graduating high school, she attended North Dakota State University and graduated with a finance degree. During college, she met Jordan Fevold, a Roseau native and Bemidji State University grad. The two were married in 2018. Chelsea was the Business Manager for Bill Hansen Realty from 2018-2020 and decided to join forces with Jordan to work as a team.
The Fevold Realty Group consists of full-time, year-round agents who will be honored to work for you! They specialize in working with all clients, whether you are buying/selling real estate or both. If you're looking for agents with local knowledge and persistence to get the job done, give them a call to negotiate the best deal for you!
Growing up near Leech Lake, Chelsea has always enjoyed boating, fishing, snowmobiling and many other outdoor activities. In her spare time, she spends time outside with her husband and yellow lab Shandy or out and about in the community. Her love and passion for the area, motivated her to help others attain similar experiences and memories. Throughout her time as Business Manager, she discovered a joy for showcasing local communities through marketing and what goes behind the scenes of buying and selling real estate. She is eager to get to work for you!
Chelsea Fevold 's Listings